New Ford Trucks that Offer Tremendous Torque and Off-Road Capability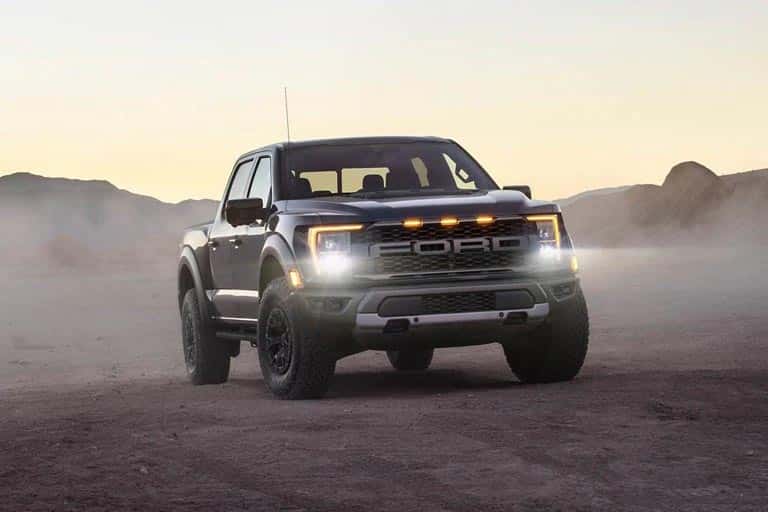 The new Ford-150 Raptor, a premium built Ford tough truck, is now at Kendall Ford of Marysville in our new truck inventory. The Ford Raptor delivers one of the most comfortable, smooth rides of a full-size truck with incredibly fast acceleration and extreme amounts of torque, even on rough, off-road terrain. It is an ideal machine to take with you as you cross the Washington mountains or venture into the wilderness. The Ford Raptor is one truck that you must see and experience to believe!
If you ever wanted a truck capable of going off-road and with acceleration so fast that it has been used in racing, the Ford F-150 Raptor is your truck. It has a number of exclusive features that you just won't find in another truck:
The Raptor maintains its axel position, even when traversing the roughest terrain, due to its 5-link rear suspension with extra-long trailing arms. It also has a panhard rod and 24-inch coil springs, the largest springs of any truck in its class. This suspension, paired with a high-tech computerized engine management system, provides the new Raptor with increased rear wheel torque for throttle responsiveness that is second-to-none and fast acceleration without sacrificing comfort, stability, handling control, and traction.
Its Fox Live Valve internal bypass shocks filled with a premier, low-friction shock fluid, and high-tech electronic control technology, allows the Ford Raptor to react instantaneously to terrain changes while maintaining its superior level of comfort, both off road and on the open road.
A twin-turbo 3.5-liter EcoBoost high-output engine delivers a massive 510lb-ft of torque and 450 horsepower. This engine also comes equipped with new high-powered cooling system fans, to ensure that the engine will not overheat, no matter what you do.
The new Ford F-150 Raptor also comes with a standard SuperCrew cab and an immense 12.0-inch touchscreen to keep you connected, informed, and entertained wherever you go in addition to state-of-the-art driver-assist technology that will keep you safe. This new Ford Raptor truck needs to be at the top of your must-see list.
Purchase Your Ford Truck at the Ford Dealership or Online
If you want to save time and hassle at the Ford Marysville dealership, take the time to fill out our online financing application before coming in. Then take the time to browse through our new Ford trucks online, which includes the new Ford F-150 Raptor, or drop by the dealership to look at them in person  You can find us at 15900 Smokey Point Boulevard, Marysville, WA 98271 just a short distance from Seattle, Bothell, and Lynnwood. Once you find the Ford Raptor that most excites you, take it for a test drive you'll never forget! Then, before you leave the Marysville dealership, take the time to determine the value of your trade, and while there, you can also drop by our finance center and check on your loan, or you can just complete the application there. It's your choice.
Another option for purchasing your new Ford Raptor, if you're having difficulty coming in to the Marysville dealership, is to purchase your Raptor through our online car buying program. Just let us know which Ford Raptor you want to test drive and we'll bring the truck to you! If you don't see the exact Ford Raptor that you want, that's okay as well. You can also place a Ford factory order and get your Raptor exactly how you want it.  Either way, we'll help you purchase your new truck from your home. When your purchase is complete and your Raptor is ready to go, we'll deliver your truck to you, you will sign the necessary papers, and we'll drive away your trade. You can't get much easier than that!
Our goal is to do whatever we can to save you stress and make your purchase as hassle-free as possible. If you have questions about the Ford F-150 Raptor or any other Ford vehicle or need help or clarification about the buying process, use our handy online form to contact us or call (833) 935-0117 and talk to a member of our helpful and experienced sales team. We're ready to assist you at any time. Let's start something great today!